Learn how to always get a reply.
The typical experience of writing an email is to "send and pray". All of us forget to follow up, and only discover they didn't reply when we have to fight the ensuing fire.
ActiveInbox makes it easy to remember to follow up in 2 days, if you don't get a reply.
In Getting Things Done, David Allen writes, "You'll get a great feeling when you know that your Waiting On list is the complete inventory of everything you care about that other people are supposed to be doing". In other words, you'll be a master delegator.
Tracking emails that need a reply

As you compose, and after the first draft is saved...
Check "I need a reply". (You can pick how long you'll wait.)
When you're done, click the Send button as normal.
You can also add the email to a project from here. Just click "Add Task" (or "Edit Task") on the same row.
Remember to follow up
If you don't get a reply in time, the email will appear on your Today list to follow up.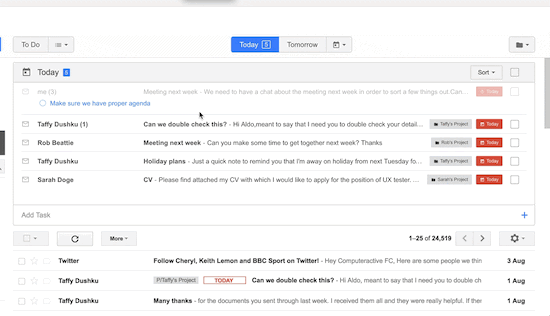 See everything you're waiting on
Once a week, or even daily, it's worth checking your entire Waiting On list to clean up things you no longer care about.
Just click 'Waiting' above your inbox.

FAQ
What is the difference between Waiting On reminders and Due Dates?
Essentially, Due Dates mean "I have to complete this by day X, keep my attention on it as it approaches". Whereas Waiting On reminders mean "This item is blocked, keep it off my mind until they do something, or it's time to follow them up".
You can apply both. For example, if you need to complete something by next Wednesday you could set a due date for then. But to help you complete it, you have to get information from a colleague, and so you send them an email and add a Waiting On reminder for tomorrow.