Put things into folders, to focus
If your inbox is like a Saturday morning street market with all the stall holders hollering for your attention then it's time you discovered folders.
There's a reason that the humble folder is the de facto metaphor for organising all your electronic 'stuff' - whether it's Windows, Mac or Linux. Folders work. They make sense. They let you take all that Gmail cacophony and turn it into a handful of simple, organised projects that you can work your way through.
Creating a Folder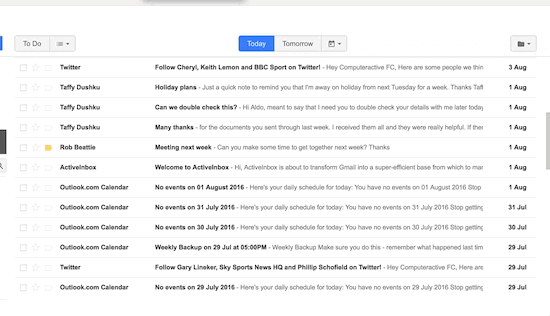 Open an email
See the Folder button at the top in the middle? Click it to open the drop down menu
Choose Create New to create a new folder
Give your new folder a name and click Create
The email you were looking at in Step 1 when you created the new folder is added to it automatically
Next time you click a Folder button anywhere in ActiveInbox you'll see your new folder there
Psst. Want to create a new empty folder? Just click the folder button on the left above your inbox and open the drop down menu there, click Create New...and so on.
Remove an email from a folder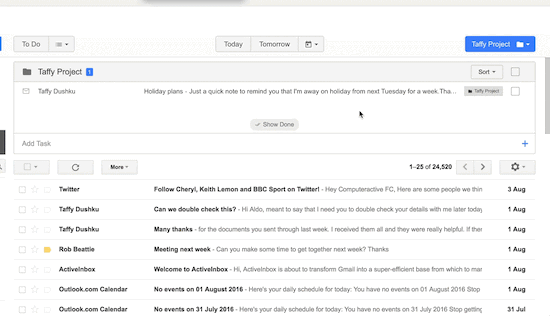 If an email is assigned to a folder you'll see the name of that folder in a grey panel on the right hand side of the message
To remove the email from that folder just hove the pointer over the message, open the menu on the folder button and click the name of the folder - it's highlighted in blue
The email will be removed from the folder
Create a sub folder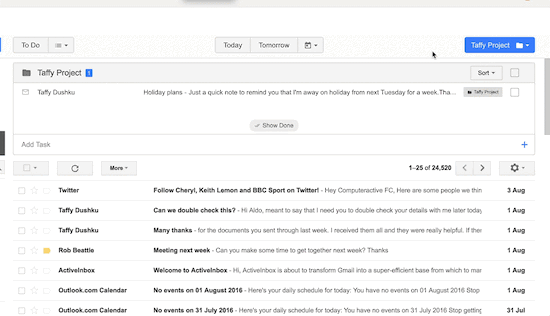 Make sure you've already created a folder and then click any of the Folder buttons to open the menu
Find the folder you wish to add the sub folder to and click the 'more' button (it looks like three dots stacked on top of each other)
Select Create sub folder
Type in a name for your new sub folder and click Create
If you selected a folder button that was already associated with an email, that will be added to it automatically; if you selected the folder button at the top right, the sub folder will be created without any contents
Deleting a Folder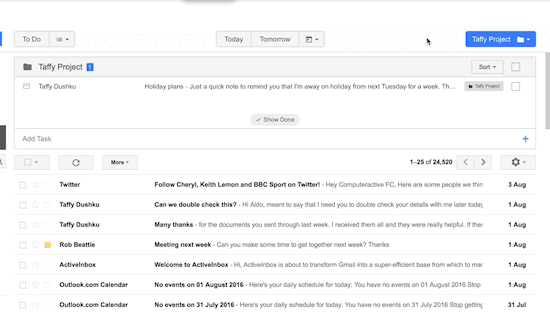 Open the Folder menu on any Folder button
Find the folder you want to delete by clicking the 'more' button (it looks like three dots stacked on top of each other)
Select Delete from the menu
When the dialogue box appears, click OK
Your folder is deleted - but any emails inside it are returned safely to your inbox
Here's how we use folders
We have a 'Bugs' folder and an 'Ideas' folder, and then we create sub-folders for each Bug or Idea that comes in. We'll keep gathering 'evidence' (aka adding emails to the folder), then make a decision, and email everyone in the folder to notify them about it.
Here's how you can use folders
you can see how many tasks are inside a folder and its sub folders because every folder has a number next to it
you can pin a folder to the review bar above the inbox for easier access
and then unpin it whenever you need to
you can sort tasks in a folder (you can even drag and drop them)
you can sort folders in the Today view
you can filter emails directly into folders (remember that our folders are like Gmail's 'labels')
you can see regular emails and completed tasks in a folder at the same time
Configuration Gold Star
Don't like the fact that things you add to a folder are automatically removed from your inbox? Just turn it off. Open ActiveInbox settings dialogue by clicking the little cog icon in the left hand column, find the 'Archive threads when added to a Due-Date/List/Folder' and remove the tick next to it.
You can pin folders as Buttons, for easy access
If you click the Folders dropdown, you'll notice a menu button on the right of each folder. If you click it, and choose 'Pin', the list will be added as a shortcut button to the bar, for quick access. Use it for your highest priority projects!