If something doesn't need a Due Date or doesn't belong in a folder, you can track it by adding it to a Task List. ActiveInbox comes with a To Do list already set up but you can also create your own lists for anything you like.
Add an email to the To Do List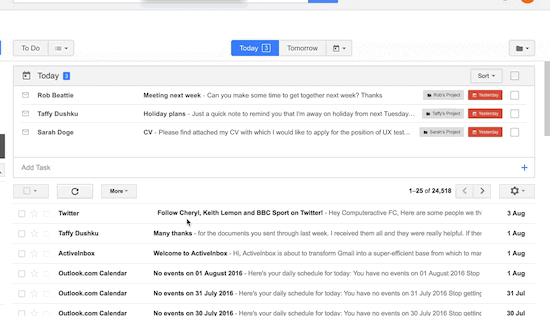 Open the email you want to track
Click the To Do button at the top
Go back to the inbox and click the To Do button at the top left
There's your email
Creating your own List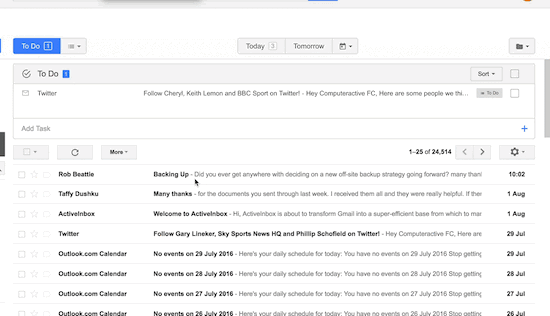 Open the email you want to track
Find the To Do button at the top and then click the list button to the right of it
Select Create New
Give your list a name and then click the Create button
Go back to the inbox
Click the list button to the right of the To Do button at the top and select the list you just created
Your new list appears as a button next to the To Do list
Click that button to display any emails associated with that particular task
Examples
It's very common to use Lists to give things priority. For example, an 'Urgent', 'High Priority' and then a simple 'To Do' list.
If you follow Steven Covey's Quadrant system, you can create Q1/Q2/Q3/Q4 lists.
Tips
You can add tasks to both a Folder and a List
E.g. If you're using Lists for priority, this is a really useful way to sort the Folder view. Click 'Sort' in the top right, choose 'List', and all your tasks in the folder will be grouped by priority.
Can I do recurring tasks?
We haven't built this in as a feature yet, but Ronald made a great suggestion on the Forum
You can pin lists as Buttons, for easy access
If you click the Lists dropdown, you'll notice a menu button on the right of each list. If you click it, and choose 'Pin', the list will be added as a shortcut button to the bar, for permanent quick access.
Remember, emails ARE the tasks!
You'll notice that ActiveInbox doesn't create separate tasks from your email... the email becomes the task. And because the emails are the tasks, you don't have to keep switching between your email client and a task manager. Gmail will become your ultimate task list, so you never forget anything - ever again.
You'll notice when you add something to a List it's removed from your Inbox
(This is a preference - you can disable it!). Don't worry, ActiveInbox is tracking it, and now you're one step closer to Inbox Zero. If you're ever worried, click 'All (including Finished)' on your sidebar and you'll see everything.