How to focus on a handful of folders, instead of 100s of overwhelming emails.
Email is incredible, but the never-ending arrivals in your inbox smash your productivity.
You wouldn't sit an exam on a New York sidewalk, being shouted at from all angles. Instead you have 3 hours of quiet to focus. Folders give you that in email.
Let's create folders in Gmail to file away important emails, yet keep them within easy reach.
You say tomato, I say tomato...
In Gmail, folders are called labels but the concept is much the same, but with the added bonus of being able to attach more than one label to an email. Think of it as using coloured Post-It notes on your emails in order to make it easier to navigate your way through the daily onslaught of communication.
Vanilla Gmail and ActiveInbox
You don't need ActiveInbox to do folders, so you'll learn the normal way.
But we'll also show you how to do Project folders in ActiveInbox, using this different style.
How to create folders in Gmail
The quickest way to create a folder is by scrolling down the left-hand sidebar of your screen to + create new label. Click on the tab, a little box-out will pop up and politely ask you to enter a new label name. Let's call it Client Contracts.
How to create sub folders in Gmail
Now you can keep Client Contracts as a folder in its own right, alternatively, use it as a subfolder and place it under one of your existing folders, for instance Active Clients.
Underneath the new label box there is a tick box inviting you to Nest label under, then scroll down to Active Clients and tuck it away there.
How to add emails to folders in Gmail (you can also create folders this way)
Open an email or select the emails you want to file away. Click on the Label tab on the top toolbar and check off each folder you want to add emails to or simply create a new one. Tidy.
Alternatively, go old-school and drag 'n' drop checked emails into existing or new folders on the left-hand sidebar.
In ActiveInbox, just open an email, and press the Folder button. From there you can pick one from the folder tree, or create a new one.
This is very similar to Gmail - the magic happens when you can sort emails by due date or person in your project folder views.
And you can create a sub folder too.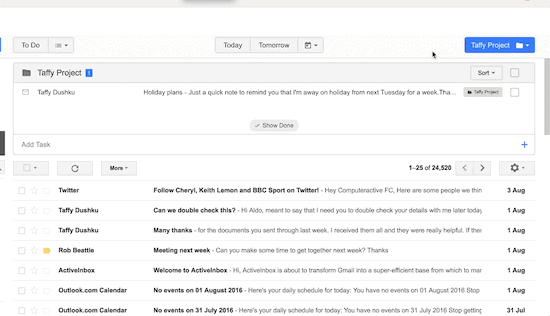 Removing an email from a folder
It's as easy as clicking the Labels dropdown again, and unchecking the label.
Similarly in ActiveInbox...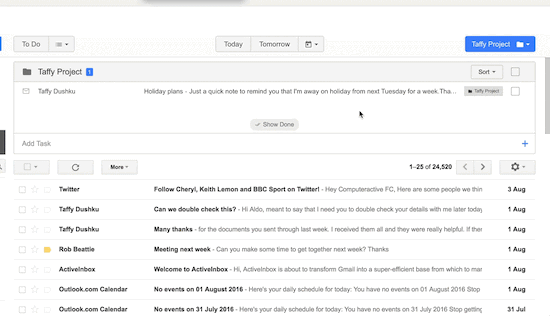 How to edit and delete folders in Gmail
Unlike marriage or adopting a puppy, there's no lifelong commitment to folders, they can be changed, edited or deleted at anytime, so go wild.
Click Settings and then See all settings.
Click the Labels tab.
Delete folders, edit folders, rename folders, it's all here.
In ActiveInbox, you can delete it straight from the folder menu.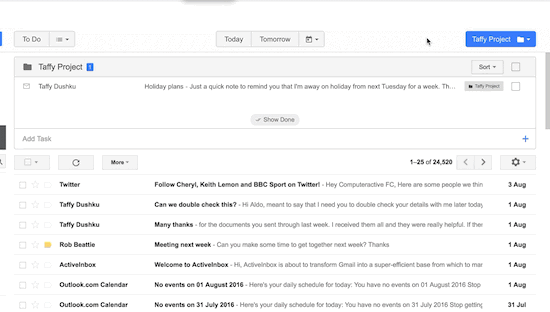 How to manage and view your folders
Our brains can only hold so much information at any one time, so it's important to focus fully on one thing at once.
All folders are available to view on the left-hand side of your Gmail homepage, but they're not always visible. Just click More to see them.
In ActiveInbox, they're above your inbox. Click the folder icon and open your chosen folder.
You can then increase your focus further, by dragging the most important emails to the top.
Or sort it into a handful of big picture items (e.g. by due date, or person).

ActiveInbox Folder FAQ
How to quickly create folders from your smartphone
Working on the hoof? Not a problem. It's just as easy to use and create Gmail folders from your smartphone.
Open the Gmail app on your smartphone - most Android phones come with a Gmail app installed but iPhone users can download it from the App Store - open up an email or emails and tap the folder icon at the foot of the email and Move Message to an existing folder or press + to create a new one.
Find out more about using ActiveInbox on mobile.
Prevent email overload by using Gmail's handy filters
An uncluttered inbox is like balm to our fractured productivity. Use Gmail's handy filters to save time and get organised by creating folders automatically based on your search criteria.
For instance, you can have all emails from a certain person or company go straight into a folder. You can even tell the filter rule to skip the inbox.
And if you're using ActiveInbox, you can also put it on a task list at the same time. All you have to do is add a Gmail priority label that ActiveInbox recognizes. E.g. !To Prioritize or !High Priority. Find out more about priority labels (you can even sort a project folder this way).
Want to achieve inbox zero?
You should clear your inbox to clear your mind. Find out about inbox zero in Gmail.
Pinning a popular Folder
If you're working a lot on a particular folder, you can pin it as a button so it's much easier to select.